Zend Server is the professional PHP distribution with advanced value-add capabilities designed to optimize productivity, performance, scalability, and reliability.
Designed to match the priorities, features, and requirements of your system, Zend Server is available for download in several versions, including one that supports PHP 7. (Note: Zend Server pricing is based on a 12 month/annual subscription.)
Zend Server includes over 80 PHP extensions and supports Apache, NGINX, and IIS Web servers sometimes referred to as PHP Servers. It's delivered as native packages for all leading Linux distributions, Windows, MAC OS X, and IBM i environments including popular cloud environments like Amazon Web Services (AWS) and Microsoft Azure. Zend Server supports any and all PHP code and provides deep insights into that code including the most popular PHP applications and frameworks like WordPress, Magento, Drupal, Zend Framework, Symfony, and Laravel. Any code you have in PHP will run on Zend Server.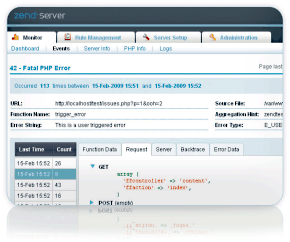 Component Property
Version
v9.1
Zend Server with Z-Ray Developer Edition - Standard
Related Products