It is a desktop drawing tool, can draw line on it free,you can set line's color or width.Clear the points(lines) that you drawed(when you clear on Desktop,it will be magic)!,for education,demo,explaining,for doodling too. You can introduction your product easy. it is magic tool if you using a touch screen.
FEATURE
1.Draw on your desktop;

2.Draw on a "blank paper";
3.Rubber tool;
4.Double mouse click to Clean them;
5.Spot light tools;
6.Save your drawing to disk file.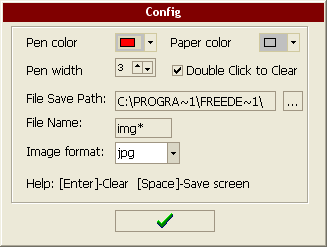 Software Properties Group
32bit/64bit
32bit
32bit/64bit
64bit
For OS
Windows XP and above
Version
3.1
FreeDesktop
Brand: Codeidea
Product Code: FREEDESKTOP
Availability: In Stock
Tags: FreeDesktop