EMS SQL Management Studio for SQL Server is a complete solution for Microsoft SQL Server database administration and development. With components that focus on all critical MS SQL Server database management tasks, SQL Studio is a single workbench that provides you with must-have tools for administering SQL Server databases, managing database schema and objects as well as for MSSQL Server database design, migration, extraction, SQL Server query building, data import, export and database comparison. SQL Studio unites these database tools for SQL Server in one powerful and easy-to-use environment that can work round the clock. With SQL Management Studio many database administration objectives, such as migration, data loading and synchronization, database backup and extraction can be automated, allowing SQL Server database administrators and SQL Server application developers to perform complex tasks on a regular basis with the minimum number of efforts and a high level of flexibility. Whether you are a database or application developer, DBA or business analyst, SQL Studio for SQL Server offers all essential SQL Server tools to make you more productive than ever before!
SQL Management Studio for SQL Server components

SQL Manager for SQL Server - Simplify and automate your Microsoft SQL Server database development process, design, explore and maintain existing MS SQL Server databases, build compound SQL Server query statements, manage SQL Server database user rights and manipulate data in different ways.
Data Export for SQL Server - Export SQL Server database data to any of 20 most popular data formats, including MS Access, MS Excel, MS Word, PDF, HTML, ODF and more.
Data Import for SQL Server - Import data to SQL Server database tables from MS Access, MS Excel, CSV, XML and other popular formats via user-friendly wizard interface.
Data Pump for SQL Server - Migrate from most popular databases (MySQL, PostgreSQL, Oracle, DB2, InterBase/Firebird, etс.) to SQL Server. Convert database schema and import table data to SQL Server database from any ADO-compatible source.
Data Generator for SQL Server - Generate test data for SQL Server database for testing purposes in a simple and direct way. Wide range of data generation parameters, user-friendly wizard interface and useful console utility to automate SQL Server test data generation.
DB Comparer for SQL Server - Compare and synchronize the structure of SQL Server databases. Move changes on your development database to production with ease.
DB Extract for SQL Server - Create SQL Server database backups in the form of SQL scripts, script and save your SQL Server database structure and table data as a whole or partially.
SQL Query for SQL Server - Analyze and retrieve your data, build your SQL Server queries visually, work with SQL Server query plans, build charts based on retrieved data quickly and more.
Data Comparer for SQL Server - Compare and synchronize the contents of your SQL Server databases. Automate your data migrations from development to production database. Customize the MS SQL Server comparison and synchronization process to suit your needs.
SQL Studio Additional Features
Handy launch of utilities and services
Storing all templates in a single repository
Common data source list for all services and utilities
Creating complicated tasks and scheduled tasks execution
Ability to run external applications from scheduler
Storing all task execution logs in one database
Creating customized notifications with a variety of delivery options
Ability to set visual interface style uniquely for all SQL Studio apps
Fast access to EMS Technical Support Service
In-purchase benefits
Acquiring a full set of must-have tools for only 50% of their regular price!
FREE One Year of Maintenance already included!

FREE software updates and upgrades during Maintenance period!
FREE and unlimited Technical Support during Maintenance period!
Reasonable pricing for Maintenance renewal – from 20% per Year!
Volume discounts when buying two or more copies of one product
Cross-selling discounts on related products

30-day money-back guarantee
Product Screenshots
SQL Management Studio. Easy-to-work environment uniting all must-have tools for administering databases. SQL Studio allows to easily launch database utilities and provides rich customization abilities for their execution.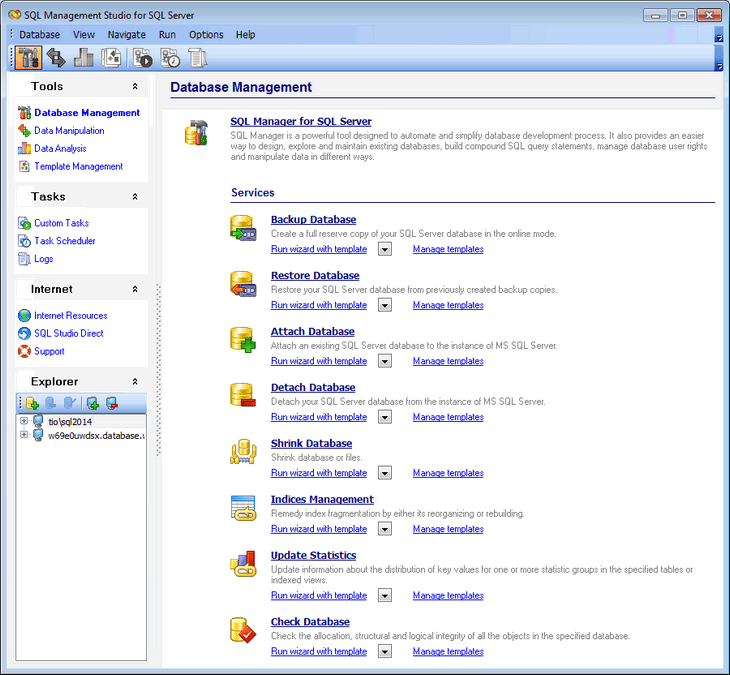 Component Property
Component Type
Component Environments
SQL Server
Version
EMS SQL Management Studio for SQL Server
Brand: SQL Manager
Product Code: EMSSQLManagementStudioforSQLServer
Availability: In Stock