Three Silverlight Scheduling Controls in ONE
Manage all of your dynamic Outlook style Schedule requirements with ease and with one control. Multi Column Day view, Month view and Week view - all in one Silverlight Control. Calendar Silverlight offers Direct edit appointment scheduling with multiple calendar dimensions:
Appointments
Contacts
Locations
Tasks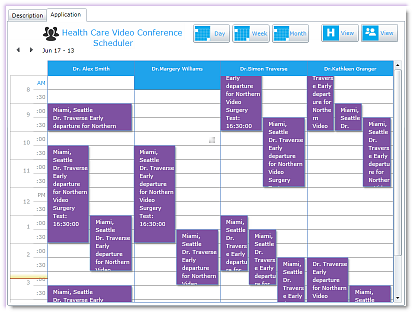 Across the enterprise and around the world - enable your end users with functionality to elegantly manage the multiple dimensions of Scheduling. Direct inline editing and multi object grouping, sorting and full data integration for an unparalleled scheduling experience - all in One control.
Multiple Time zone planning and schedule management made simple.
DBI Calendar Silverlight combines three control views;
Multi Column Day / Resource View
Month Calendar View
Week Calendar View...
One compact, feature rich, royalty free Silverlight component - expertly add schedule functionality in any Silverlight application.
Data Integration - DBI Calendar Silverlight is designed for data flexibility. Connect to any data source - XML to SQL to Oracle to DB2
Component Property
Component Type
.NET
Component Environments
Visual C# .NET
Component Environments
Visual C++ .NET
Component Environments
Office
Version
V2016 10 25
Calendar Silverlight
Brand: DBI
Product Code: V2016 10 25
Availability: In Stock
Related Products
Tags: Calendar Silverlight